Strategic vision.
AT NOSHAQ, WE HAVE OPTED TO DEVELOP SECTORAL EXPERTISE AND WELL-EQUIPPED ECOSYSTEMSTO BETTER MEET THE NEW CHALLENGES OF TODAY AND TOMORROW.
The diversification of Noshaq was undertaken with the desire to expand the sectors and areas of intervention. Noshaq has therefore established a real eco-diversity policy to be even more at the service of the Liege economy and its growth.
The Noshaq Group wishes to be the driving force behind the implementation of the necessary tools to make the Liege region a biotope organised for the growth of companies.
In this way, Noshaq is involved in the development of various socio-economic structuring ecosystems.
1. Biotech
For several years now, life sciences have made a very significant contribution to the economic redeployment of the Liege region.
This sector represents almost 2,000 jobs and creates around one hundred new direct jobs every year.
Noshaq and its main partners (ULiège, CHU) aim, through B2H, to define a strong strategy for the biotech sector by accelerating the deal-flow of endogenous companies and increasing the exogenous deal-flow.
The strategy is based on a four-pillar approach:
Infrastructure.
Infrastructure adapted for all stages of company development.
Expertise.
Multi-domain scientific expertise:
a fertile ground for creating companies and providing specialised resources.
Support.
Funding.
Up to €10m – via a mixture of public and private funders: Noshaq, Epimède, FUND+, etc.
2. Digital
LeanSquare
LeanSquare is an investment fund with the objective of investing in venture capital in start-ups of the new economy, with real growth potential and/or a role model.
LeanSquare is a general fund that develops several priority sectors (EntertainmentTech, Enterprise Software, Transition). In a few figures, LeanSquare is:
13+ M€
allocated investments.
65+
start-ups invested in since 2014
40+
start-ups in its portfolio at present (Belgium, France, UK, US and Germany)
3. Industry and Industry 4.0

Since 1985 Noshaq has been financing the transition of industrial companies in the Liège region towards new markets and accompanying them in investments designed to improve their performance. Today, the increasing digitalization and the energy and ecological transition are crucial issues to maintain a competitive and sustainable industrial fabric. This is why the Noshaq group has made industry a major focus of its investment strategy.
Noshaq wants to help traditional industrial companies to integrate advanced technologies to improve their performance. Noshaq also develops and invests in an ecosystem of companies active in the technologies necessary for the transition, particularly those of industry 4.0 : sensors and IOT – AI & Big Data – robotics and automation – computer vision – cybersecurity & management software …
The follow-up of the participations is, beyond the strictly financial aspects, articulated around an offer of infrastructures (offices and factories), collaborations or provision of experts (academic, R&D centers, industrial referents, …) and support in the phases of transformation of the organizations.
Through its activities, Noshaq intends to contribute to maintaining a sustainable industrial activity in the Liège region and creating value for society.
4. Real estate and redevelopment
Noshaq Immo is the real estate subsidiary of the Noshaq Group.
Created in 1986, Noshaq Immo represents more than 400 Mi€ of investissement, with a capital of €65m.
Noshaq Immo is the Noshaq Group's transversal tool for real estate transactions, real estate development projects, investments etc. of the group.
Noshaq Immo is also the tool that allows the development of structuring or strategic projects. Its focus is on urban revitalization, brownfields rehabilitation and industrial infrastructures.
Ambition.
The ambition of Noshaq Immo is to drive forward Noshaq Group's real estate policies (new acquisitions, new projects etc.) and to position itself as one of the actors facilitating the redevelopment of abandoned industrial sites.
Partners.
institutions
funds
real estate operators
private investors
companies with projects
Urban revitalization:
Liege's Creative District (La Grand Poste, Madeleine 4.0, Hôtel Baar-Lecharlier)
Brownfields rehabilitation:
Industrial infrastructures:
5. Quality agri-food
Liege sits on fertile land with a large number of quality producers in the agri-food sector.
Noshaq wants to highlight producers of the region, to promote local products with a real desire to support the sector. This is a way for us to promote their know-how and quality products "made in Liege".
This is because we are particularly attentive to changing modes of consumption, to the development of short supply chains and also to modes of reasoned production.
This is what has driven Noshaq's decision to make agri-food one of its 7 strategic sectors, and to support producers and artisans in their development projects and to structure a quality agri-food ecosystem.
As in the other priority sectors, the objective is to create a deal flow of investment opportunities in growth projects.
6. Cultural & creative industries
With its partners in the world of culture and business, Noshaq is developing a project to create a cultural incubator. The objective of this project is to help entrepreneurs in the cultural & creative fields to find new models, to innovate and create by promoting the sharing of experiences and knowledge within a cultural incubator.
Designed as a collaborative platform, the cultural & creative incubator will focus on all artistic forms and disciplines: theatre, visual arts, dance, music, film, video, gaming, and also digital and urban arts.
The guideline of this project will be hybridisation and decompartmentalisation, thereby combining culture and technology by seeking industrial partners to act with cultural actors. The project will target projects with potential in which public and private funding structures can effectively invest, once these projects reach maturity.
Thus the project aims to develop an ecosystem that will position itself as a complement to the existing network of incubators and accelerators, to enable Wallonia to attract new talent, creators and investors, and to extend its influence abroad.
7. Energy and sustainable development
Conscious of the challenges of energy and sustainable development, the Noshaq Board of Directors has included these two sectors in its strategic plan in order to develop an ecosystem logic.
Noshaq aspires to support industrial projects that will make it possible to develop solutions that address the major ecological and climatic challenges facing us today.
Creative district
NOSHAQ'S CREATIVE DISTRICT PROJECT IS STEAMING AHEAD IN THE GRAND LÉOPOLD AREA!
Whether it's the new businesses moving in, the flourishing architectural renovation and the increasing associative activities, Noshaq is convinced that this neighbourhood has become a truly creative district, an inspiring place with high potential. This is why we are developing several large real estate projects there.
Noshaq HQ
Noshaq HQ is the real heart of the Noshaq reactor on Place Saint Etienne. We have renovated the Hôtel de Copis (a partly listed historic building) and built a new contemporary building designed by the Liege architect Pierre Hebbelinck.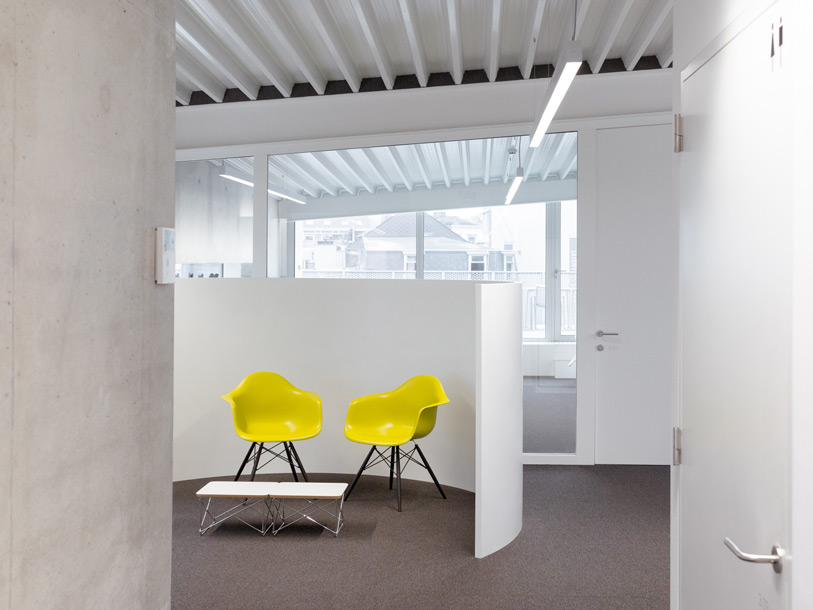 La Grand Poste
Located in the heart of the city, La Grand Poste is home to a community of creative entrepreneurs with a focus on the new economy, the digital, media and entertainment industries.
La Grand-Post wants to be seen as a figurehead of Media+Tech entrepreneurship and of the creative district of Liege in the Grand Léopold neighbourhood.
Its activities are based on 5 pillars:
a coworking facility
a food market, a bar and a rooftop
an industrial brewery developed with our partner "Brasseries de Liège"
a place to host start-up support programmes
a media campus for the students of the master in journalism of the University of Liege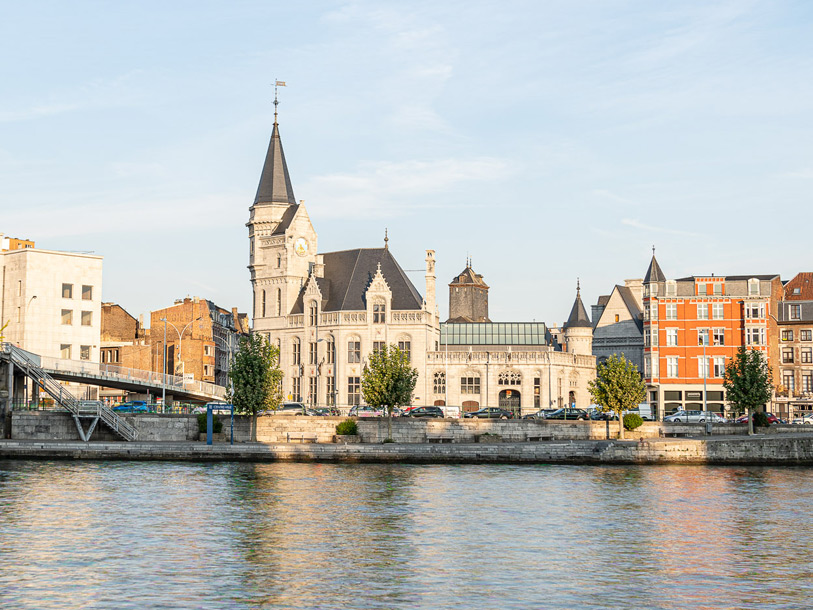 Madeleine 4.0
This is a real estate renovation project that truly completes the offer in the creative district. It is a mixed project offering commercial areas, offices and housing.
Le Fiacre
Le Fiacre is the head office of Hub Créatif de Liège, PLUG-R, a platform dedicated to creativity, innovation, intrapreneurship and entrepreneurship in the Liege region. Le Fiacre will also be a business centre.